Proton T-1.5
Hard Drive & Tape Degausser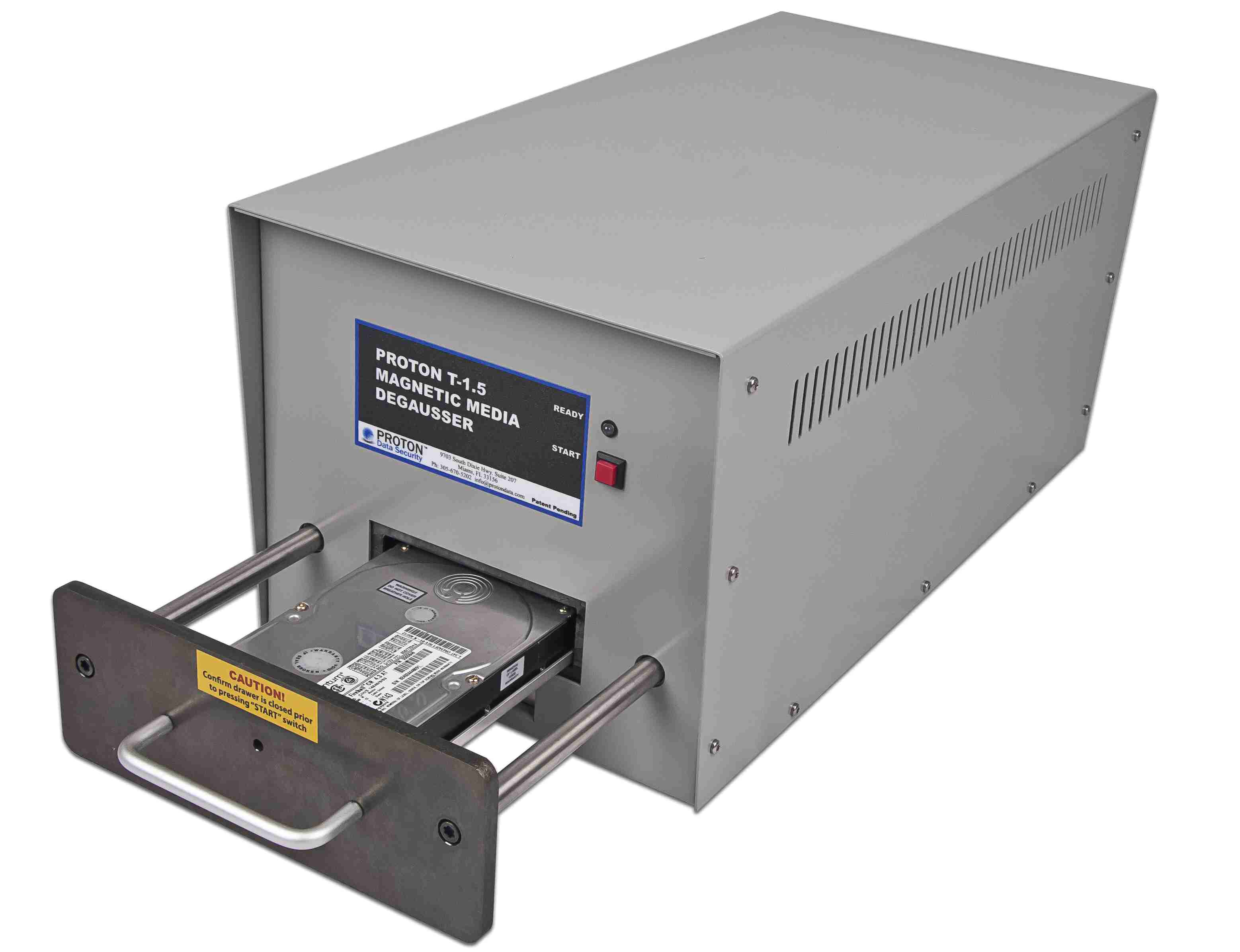 FEATURES
Automatic On/Off Operation
1.5 Tesla (15,000 Gauss) Field Strength
Continuous Duty Cycle
FAST & EASY to Use
Cycle Time - Less than 5 Seconds
Optional Case with Wheels
Manufactured in the USA
1-Year Warranty
Extended Warrantees Available


Download Proton T-1.5 pdf Brochure
CALL FOR PRICING - WE BEAT ALL PRICES INCLUDING GSA
The Proton T-1.5 is a drawer style degausser that permanently erases data from hard drives and various tape media. It has an effective magnetic field of 1.5 Tesla, making it capable of sanitizing the highest coercivity media available today and it will continue to keep pace as hard drives technology advances.

The Proton T-1.5 helps organizations protect their sensitive information and stay in compliance with recognized data security standards and regulations. It is the ultimate guard against data loss, which can lead to costly data breaches.
Operation

The T-1.5 is fully automatic and has a cycle time of less than 5 seconds, making it the fastest electro-magnetic pulse degausser available. Operation is easy - simply insert the media into the drawer and push the start button. Internal software acts as a built in safeguard and assures the unit is operating at peak performance for each cycle. The T-1.5 is extremely compact and portable, which allows it to fit easily into existing operations and be transported when necessary.
Benefits
Destruction of confidential, sensitive and classified data in accordance with National Institute of Standards and Technology (NIST).
Meets US Department of Defense (DoD) and Defense Security Services (DSS) requirements for sanitizing unclassified data.
Provides compliance under regulations such as HIPAA, PCI DSS, GLBA, FACTA, etc.
Internal software requires all parameters (capacitor voltage, switch, etc.) are present prior to the "GO" LED display. If any problem exists that will compromise degaussing, the "GO" LED will not display. This software guarantees that each degauss cycle delivers sufficient strength and consistent performance.
Will erase any magnetic media that fits into the drawer: Including all standard hard drives (laptop, desktop and network storage tapes (DLT, LTO, DDS/DAT, etc.).
No adapters required.
Maintenance free.
Optional deployment case with wheels.
Manufactured in the USA in ISO9001 certified facilities.
CE Certified and ships with CE mark.
Technical Specifications

Field Strength

15,000 gauss (1.5 tesla)

Erasure Time Cycle
Less than 5 seconds

Duty Cycle

Continuous

Power Supply

Dual Voltage - Automatically converts between 120 V and 240 V

Dimensions

12" (30.5) W x 12" (30.5) H x 20" (50) D

Drawer Opening Dimensions

Accommodates all magnetic media within 1" (2.5) W x 4.3" (11) L x 6" (15) H

Weight
48 lbs. (21.8 kg)
Warranty
1 Year Factory Warranty; Extended Warrantees available


Order from

BOW Industries, Incorporated
10349 Balls Ford Road
Manassas, Virginia 20109 U.S.A.
Tel: 703-361-7704
E-mail: sales@bowindustries.com






tags: degaussers, degausser, garner degaussers, tape cleaner, proton, proton data security, proton engineering, audiolab, media destruction, hard drive destruction, magnetic tape, hard drive destroyer, degaussing, erasing, hard drive bender, hard drive, data pure